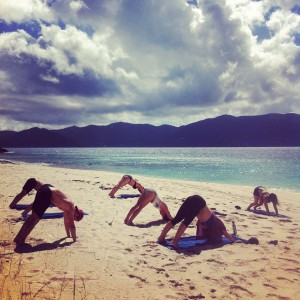 November 10-17, 2012
British Virgin Islands
Join Diana and Sarah for a week of blissful vinyasa yoga in the Caribbean!  Sail the turquoise waters of the BVI and fire up your yoga practice with an all-levels class on the beach every morning.  We'll travel and sleep on a luxury sailboat, departing from Tortola and stopping at Virgin Gorda, Jost Van Dyke, Norman Island, Anedaga, and other Caribbean jewels.
The BVI offers unparalleled sailing in sheltered seas.  Our captain will give you complimentary lessons– no sailing experience required!  Explore pristine beaches, quiet villages, eclectic shops, luxury resorts, and beachside bars.  Get off the beaten path and hike the lush, green mountains of the islands, or snorkel above magnificent coral reefs teeming with sea life.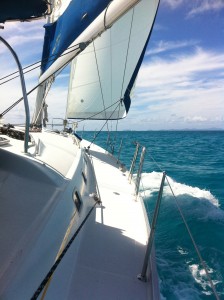 Afternoons will offer more yoga, for those who want it. Choose from restorative practice, Pilates fusion and core conditioning, handstands and arm balancing, or pranayama and meditation.  Work closely with Diana and Sarah to deepen your practice and address any imbalances or yoga questions you may have.  Or just lie in a hammock and watch the sun go down.
All-inclusive rates start at $1440 per person* if you register with by September 1.
*Includes meals, lodging, yoga, sailing– basically everything but your flights to/from Tortola and your pina coladas!  The Sailing Collective will help with your travel plans and logistics.  Find out all the details and register HERE!
INSTRUCTORS:
SARAH WAGGENER
Sarah's yoga practice is filled with her love of the Ashtanga Vinyasa system, as well as her love of dance, acrobatics, and circus.  She is a professionally trained aerialist and feels that yoga is the key to being a strong, well-balanced performer.  She traveled to India to study with the late Sri K. Pattabhi Jois and his grandson, Sharath Rangaswamy, and has also had the honor of studying with Kino Macgregor, Tim Feldmann, and Richard Freeman.
Sarah strives to challenge her students in a fun, safe environment, encouraging them to embody their own strength and grace.
DIANA WHITNEY, RYT
Diana Whitney teaches a dynamic, Ashtanga-inspired vinyasa flow that strengthens the body while opening the heart. For 12 years, she has led students of all levels through creative asana sequences that integrate core strength, breath and self-compassion. Diana leads workshops and retreats around New England, and is teaching at the 2012 Wanderlust Festival.
A lifelong athlete and lover of nature, Diana can't wait to combine yoga with sailing, sun, wind, and sea.  Learn more here.