SOLSTICE FLOW BENEFIT CLASS * a benefit for the Vermont Foodbank

* Wednesday, December 21 * 5:00 – 6:15 pm  *
THE PUTNEY SCHOOL, Currier Center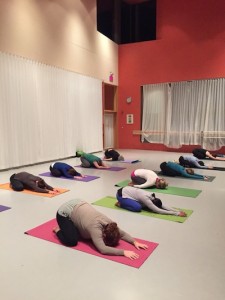 Come out and practice with your community on the shortest day of the year. Move beyond the confines of the self and awaken your innate capacity for compassion. Discover how the act of practicing with devotion can make a profound shift, as we dedicate our postures to those in need. Come with an open heart and leave your expectations at the door.
Diana will teach an ALL-LEVELS vinyasa flow. Beginners are welcome! Bring your family and friends to the beautiful Currier Center Dance Studio at the Putney School.
✦ BY DONATION ONLY. Pay what you can. Bring cash or check payable to the Vermont Foodbank. 
Contact Diana with any questions.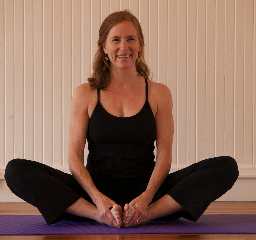 DEEPENING INTO YIN YOGA
 with Elisabeth Gardner 
* Sunday, March 2 * 1:30 – 4 pm *
We're thrilled to have Elisabeth Gardner return for another healing YIN YOGA workshop in our studio! Open to students who have some experience in yin, this workshop will allow us to explore the approach more deeply.  We'll encourage release through the hips and low back and utilize new elements to broaden our yin practice. We'll also:
-Expand the use of breath in yin
-Advance the experience of each pose as a form of meditation
-Explore the use of props to support yin poses
-Weave in yang (active) elements to move released energy
Cost: $40 by February 20 * $45 after February 20 * Space is limited to 10 and this workshop fills up fast! Register now…
Registration: You must pre-pay to reserve your spot.  You can leave cash or check (payable to "Elisabeth Gardner") at the studio, or mail it to: Core Flow Yoga, 176 Mather Rd, Brattleboro VT  05301. Please contact Elisabeth by email or call her at 802-258-7766 with any questions.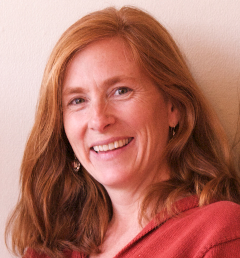 Elisabeth Gardner, MA has taught yoga classes, workshops and retreats in the VT/NH area for the past eight years.  Her training includes a rich background in a variety of yoga styles, energy work and movement.  She is a therapist and a life-long teacher with a passion for yoga and the deep sense of joy and well being it brings to life!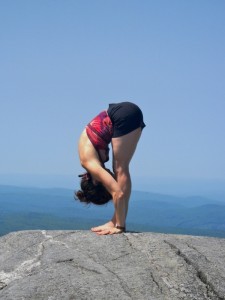 FLOW YOUR OWN WAY:  creating a home practice
*returning 2015- stay tuned!*
Are you a once-a-week yogi?  Ready to take the next step and deepen your relationship to yoga?  This workshop will give you the tools you need to start a basic home practice, one that can nourish your spirit and strengthen your body– anytime, anywhere.
Most of us start out in yoga because we find a teacher we like and a class that fits into our busy schedules.  But learning to practice alone, un-led, trusting your body's wisdom, is a profound gift to yourself–  one that is worth the effort.
We'll dive into this workshop with a juicy vinyasa flow class, then break it all down and learn the building blocks of the practice. Expect to work and play hard, delve deep, and take home a yoga plan you can use immediately.
For students with some yoga experience.
Cost: $60* pre-registered, or $65 day-of-workshop.
*Includes detailed manual of inspiring home practices and resources.  SPACE IS LIMITED and this workshop fills up fast!  You must pre-pay in order to attend.  Contact Diana with questions or to register, or register online via PayPal, below: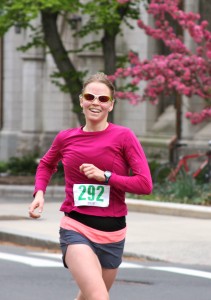 CORE YOGA & RUNNING
*Saturday, May 4 * 11 am-1 pm*
Burlington Yoga Conference 
Yoga practice is an ideal way to strengthen your core and other key muscles that support endurance running. Yoga also helps prevent injuries, loosens tight hips and hamstrings, and soothes sore muscles after a long run or speed work.
In this unique workshop, we'll start in the studio with yoga warm-ups and core conditioning, then head out for a run.  Coach Bob Parks will refine our technique as we incorporate some speed, hills, and breath-work into a moderate 3-mile run.
All levels of running experience welcome!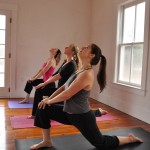 Back at the studio again, we'll wind down with an all-levels "Yoga for Runners" class.  We'll practice dynamic standing poses to strengthen and loosen up the legs, then take things down to the mat for more ab work, hip openers, and deep relaxation. Bring home a special yoga flow designed for runners.
No yoga experience necessary.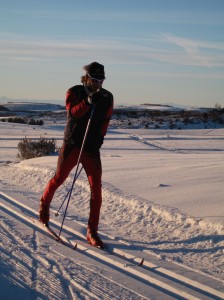 CORE YOGA & X-C SKIING
*returning winter 2014… think SNOW!*
Cross-country skiing is all about flowing with strength and working from your core. So flow yoga is a natural way to complement your skiing, relax, and recover from ski-specific training. Regular yoga practice also improves your focus, expands your lung capacity, strengthens every muscle group in your body, and prevents injuries.
Our Core Yoga & Skiing workshop focuses on skills to enhance your skiing:
– balance and alignment
– core strength
– relaxation during intense effort
– forward momentum
– flexibility, and more!
We'll meet at the Putney School Dance Studio and start off with ski-specific yoga warm-ups. Then we'll hit the beautiful Putney trails for technique work, drills, and some over-distance skiing. Expect to work hard, have fun, and sharpen up your ski technique with coaching from Diana and Tim Whitney.  After a hearty snack, we'll finish our morning in the studio with a delicious flow yoga class to stretch and release sore muscles.  No yoga experience necessary.
*Ski rentals are available at the West Hill Shop in Putney.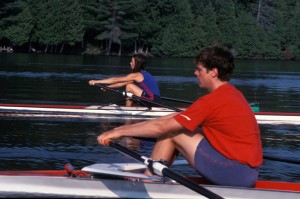 CORE YOGA & SCULLING:  a workshop on the mat and on the water

returning summer 2014
ROW-BOC * Brattleboro
Combine the stretching and strengthening benefits of yoga with the athletic discipline of sculling. Learn how to move with your breath, relax during intense effort, and focus your mind. Yoga practice can enhance your sculling. It also helps you recover from hard workouts and relieves sore, tight muscles. Plus, it just feels good!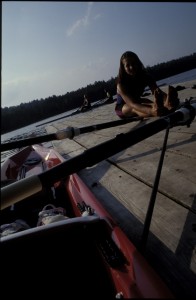 In this unique workshop, you'll learn CORE's five essential keys to better sculling. You'll sharpen up your sculling technique with coaching from Tim and Diana Whitney, get a personal video review, and then relax deeply in a scullers' yoga class.
No yoga experience necessary.
Cost: $80 pre-registered
          $90 day-of-workshop
Includes hearty snack.  Space is limited– register online via PayPal, below, or contact us to reserve your spot!